Albert Pujols
"My body deals with a lot of aches and pains over the course of a 162 game season. Using the DMS Stimulator on a regular basis speeds up my recovery time and helps with the flexibility and mobility I need to perform at the highest level. DMS gives me the comfort of knowing that my body will feel refreshed even after a long day at the ballpark or a tough workout in the gym. DMS is quick and easy to use and I would recommend it to any athlete looking to perform at their best."
Albert Pujols
Los Angeles Angels of Anaheim
---
Jeremy "Lil Heathen" Stephens
"Training for a UFC fight, you endure daily battles with the toughest training possible, which is a wide variety of training that requires every muscle and bone in your body. The most important thing for fighters like me, is recovery, making sure your body is operating 100% and your whole body is in sync working together (big and small muscle groups). DMS Stimulator is the best thing I've ever added to my training, because it helps everything I mentioned, along with my speed, power, and daily energy since it's helping my body operate like never before. It's a simple machine that does a lot of work and you're missing a lot of potential until you make the investment to get the DMS stimulator."
Jeremy "Lil Heathen" Stephens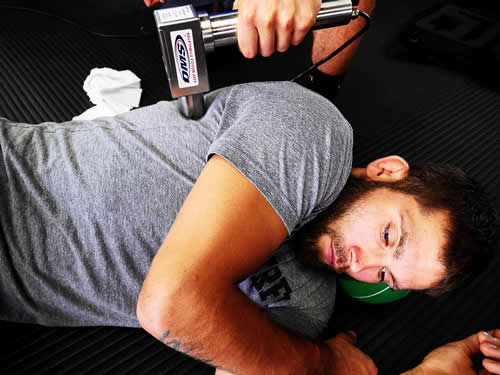 ---
Todd Durkin, MA, CSCS
"The DMS is a tool that we use with all of our clients to help improve soft-tissue quality, improve mobility & flexibility, and to help one feel better overall. Our clients love it! It is THE best massage tool on the market that trainers and therapists alike can use to get powerful results. You will recoup your investment in no-time and your clients will be asking for it after every session."
Todd Durkin, MA, CSCS
Owner, Fitness Quest 10 & Todd Durkin Enterprises
Head, Under Armour Performance Training Council
Author, The IMPACT! Body Plan
---
Rachel Wacholder-Scott
"The DMS has been an extremely useful tool for pre and post workouts. It helps maintain my soft tissue, which allows me to move better and recover more quickly. I love it!"
Association of Volleyball Professionals
Thanks again!
Rachel Wacholder-Scott
---
I have used the DMS for over 10 years on a variety of clients and client needs. Working with Olympic and professional athletes as well as pre and post rehabilitation clients, and the spectrum of gym goers has given me the opportunity to see outstanding results utilizing the DMS. Clearly a phenomenal soft tissue tool for warm up, recovery, or simply glorious relaxation, the DMS is a gift for practitioner and client!  It is by far the best purchase I have bought during my career!
Lisa-Michelle Hoffmann
CPT, PES, LES, CES, FIL
The Center Street Club, El Segundo
---
Dear Dr. Jake,
I want to take a moment to thank you for creating the DMS. Since 2002 I have used my DMS on family, friends, and the members of the health club where I have worked since 1988. I am primarily a personal trainer but the popularity of DMS treatment has increased steadily and now occupies nearly half of my workday. Every day I help people who are at the end of their ropes where their physical issues are concerned. After a treatment with the DMS they tell me they wish they had come to me sooner, as it is the most effective therapy they have experienced. They are happy to tell their friends and families about the relief that's available through the DMS.
I also treat several individuals who have MS. Following a DMS treatment, they have increased function and comfort for days. It is an awesome pleasure for me to be able to provide such an improvement in the quality of their lives. They are so grateful for the DMS.
Again, please accept my sincere gratitude for the amazing tool you have created. I love the look on the faces of the people after a treatment. My job satisfaction is immense! I have helped people walk without a cane, be able to take the stairs, stop taking muscle relaxers and pain medications, play their sport for more years, finally live without 'that ache', get back to normal activity faster after injury, and swing a racquet or a golf club like a kid again.
Anyone in the Las Vegas area can come to our facility for DMS treatment. I charge $1.00 per minute which makes it the most effective and affordable therapy available anywhere. We are located at ClubSport Green Valley, 2100 Olympic Ave, Henderson, NV 89014. My name is Janis Weber and my direct contact is (702) 278-6292.
Warmly,
Janis Weber NASM-CPT
---
Dear Dr. Jake,
The DMS is the most effective soft tissue modality that I have used in the last 30 years. The ease of use and power of the DMS maximizes treatment time. A few minutes of treatment with the DMS is comparable to 20-30 minutes of manual therapy. Its versatility has allowed me to use it on high school, college, and professional athletes as well as your average weekend warrior (ages 40-80).
Frank Novakoski,M.A.,A.T.C.
Nova-Fit
---
Dr. Allen Unruh
I can't tell you how much I am pleased with the extra service provided with the DMS to our patients. This month I've had three patients already cancel their surgeries scheduled for their chronic back pain. In our office, we offer the Cox distraction instrument to re-align the discs, and the DMS to break up scar tissue when people have chronic pain due to old injuries, and inflammation. It glues connective tissue entrapping nerves and causing chronic inflammation. Inflammation of the body is like rust to the pipe. It is very corrosive to muscles, ligaments, nerves, and joints. Improving circulation and releasing all the muscle spasm and tension is a staple in any Chiropractor's office. It is the frosting on the cake, it is the cream in the coffee, it's the extra service they don't receive anywhere else that makes all the difference. All patients leave the office in a euphoric state and I usually tell them they won't feel the floor. They just kind of float out of the office. Patients request it as part of their treatment all the time. It not only provides a higher quality of care, but it is a tremendous adjunct to the income. At just 10/day at $25.00/visit = $250.00 extra/day which comes to $1,250.00/week or an extra $5000/month which comes in handy. There are many days we do twice that amount. I can't thank you enough for this invention. And we haven't really even started to market yet. Thanks a million. You are the man who took the time, money, and energy to develop this outstanding service to our clients and I truly appreciate your entrepreneurial spirit. In this day and age of socialized medicine threatening our very existence, it is all the more reason, doctors must invest in the future with services patients are willing to pay cash for, lest they gradually wither on the vine. Professionals must realize they must expand their way out of a crisis.
Chiropractically yours,
Dr. Allen Unruh
---
Mount Union College
I am very pleased and pleasantly surprised with the results we are getting with the DMS. In a short period of time I have seen our athletes benefit from increased ROM, decrease in edema/effusion, relief from trigger points/tendonitis/plantar fasciitis, the list goes on. The DMS has quickly become the most requested and most often used modality in our Training Room. I am very impressed with the ease of use and the quick benefits that result from a short treatment.
Adam Milligan, MS, LAT, ATC
Head Athletic Trainer
Mount Union College
---
Sports Lab.
The DMS machine is an integral part of Sports Lab and the everyday training of our athletes. Simply put it is the most effective tool on the market for muscle recovery and the rehabilitation of soft tissue injuries. We highly recommend the DMS machine for not only the serious athlete but anyone who is looking to physically recover faster and more effectively.
Sincerely,
Gavin MacMillan,
President/Sports Lab.
www.sportslab.net
---
Spinal Injury
My name is Damien Minna and I broke my neck at the 4th and 5th cervical vertebrae about three years ago. The injury left me paralyzed from the neck down and the doctors told me that it was highly unlikely that I would ever regain sensory and motor function in my arms and legs. After a three month stay in the hospital I returned home to a very motivated support group that was determined to help me in my efforts to regain my mobility. I was contacted by Dr. Jake, the inventor of the DMS, and he said that he had invented a machine that he knew would help me in my quest to get my body moving again. For months Dr. Jake donated his time and service to experiment with the DMS to see what type of positive effect his machine would have on my body.
To make a long story short I have regained mobility in both of my arms, my core strength has improved dramatically, my finger dexterity has made solid gains and I now push myself around in a manual wheelchair. The DMS has become a solid addition to my intense physical therapy schedule as it adds a deep therapeutic stimulation to muscles that don't get normal everyday movement. Not only does the DMS relieve chronic tension in my back, neck, and shoulders, it also actively recruits dormant muscle fibers that I had lost touch with. My overall sensory and motor function has improved drastically and I can now feel and move areas of my body that I couldn't before I started using the DMS.
I was so impressed with the results of the DMS that I purchased one for my own personal use. I use it every day. When Dr. Jake and I discovered the benefits that it had for people with my condition, he donated a machine to the spinal cord rehab facility that I work out at. The DMS is the real deal and in my opinion, it is the most beneficial piece of sports therapy equipment on the market.
Sincerely,
Damien Minna
---
Asthma sufferer
To Whom It May Concern,
I have been a patient of Dr. Jake Pivaroff since 1993. I suffer from severe asthma. When he first used the Deep Muscle Stimulator on me it was to help relax my shoulders that would tighten from bouts of coughing. We discovered that using the stimulator lower on my lungs would cause me to cough deeply and bring up much of the mucus that is produced by my lungs. I consider Dr. Pivaroff part of my "asthma team" along with the Pulmonologist and Allergist. Since we discovered this I have been able to see him when I know my allergies are high and often curtail a severe asthma attack.
Sincerely,
Carol
---
Project Walk
February 2nd 2006
We have been using the DMS usually at the beginning of our workouts for a few of our clients for aligning and balancing their body. We have also used it on very tight and spastic muscles. In most cases, it tends to be the hamstrings and the flexors for the wrist and hand. It helps loosen up muscles that they normally would be fighting against while performing exercises.
The clients that have got the most benefit from the DMS have been our gait trainers who are already up and walking and clients that are able to stand on their own. They tend to feel like their bodies are more balanced and the weight is evenly distributed through both of their feet.
The way we have been using the DMS are hitting the trigger points on the tight side of the abdomen, the glute (inch from the sacrum), piriformis, hamstring, and calf. And also we have been gliding the DMS along the fibers of tight muscles on the body which helps to loosen them up for a period of time.
In summary, it has been a great tool that we have been using and experimenting with to help our clients achieve their goals. Most of our clients are pleased with it to help with their recovery and other cases relieve some of their pains. For more information on Project Walk and how we use the DMS, please visit our website at www.projectwalk.org
Ted Dardzinski
Founder Project Walk
Carlsbad, Ca.
---
Gray Institute
"The DMS has been an integral part of our eclectic approach to movement science.  As a Fellow of Applied Functional Science, we use the DMS as a tool to our manual work as well as part of movement therapy, training, and conditioning.  I would strongly recommend the DMS to any therapist, chiropractor, trainer or coach who seeks optimal soft tissue extensibility, recoverability, and function of their clients/patients".
Lenny Parracino, LMT
Fellow of Applied Functional Science
Gray Institute
kineticconditioning.net
---
Muscle Activation Specialist
"I am Loving the DMS unit, as are ALL of my clients. The common response I get on the table is :
It WAS WORTH EVERY PENNY !!!! "
Matt Simpson-Weber
Muscle Activation Specialist
San Francisco, Ca
www.Muscleactivate.com
---
MLB Milwaukee Brewers
December 30, 2005
Dr. Pivaroff,
The medical staff of the Milwaukee Brewers Baseball Club would like to express how the DMS has been an intrical part of our daily sports medicine protocol for injury prevention and rehabilitation. Over the last three (3) years the Milwaukee Brewers Baseball Club has had the lowest number of disabled list (DL) days for all Major League Baseball clubs, and was awarded the Dick Martin award as MLB's "best medical staff" by Baseball Prospectus for 2005.
Sincerely,
Roger Caplinger, ATC/L
Head Athletic Trainer
Milwaukee Brewers Baseball Club
---
Phoenix Suns
"The Deep Muscle Stimulator is used almost daily with several of our athletes, and on every game day. We have found by using the DMS, we are able to warm up a player quicker by getting a vigorous and deep stimulating massage. Muscle spasms are also more easily alleviated by using the DMS. The deep penetrating massage can be done in minutes, helping increase blood flow, thus aiding in increased flexibility. The DMS is used in conjunction with other modalities and hands-on techniques."
Head Athletic Trainer,
Phoenix Suns